by James Doherty
---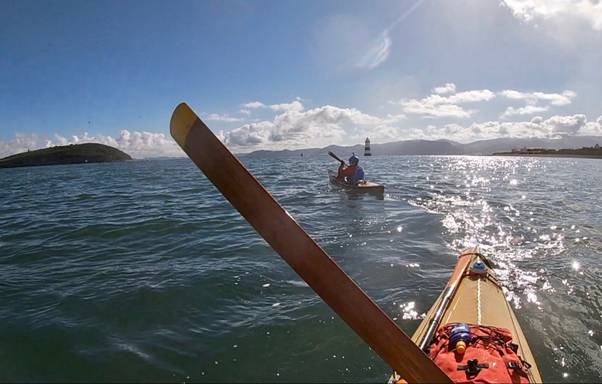 Two lines of footprints in the sand, leading to the brink of something we've been planning for a long time.
Trepidation and excitement play tag at the waterline.
The sea looks bleak in the moonlight and it's such a long way. I know the early
euphoria will mellow to dogged grind, and that will stale into slow motion pain.
This time there's an added bonus, a grown up adventure with the chubby lump I held when he was 30 seconds old. Edward is a solid partner for this one, a reassuring powerhouse.
About two years ago I got interested in circumnavigating Anglesey in a light boat, which led to skin on frame, which led to the Cape Falcon F1. I didn't consider myself a fitness or powerful paddler and became interested in hull design, especially the quagmire of length v speed.
For long trips I reckoned that a 14' waterline and a drag sweet spot of 7 kph was right for my abilities. The F1 delivers this with 13 kg, low wetted area, and a narrow waterline beam. It requires possibly less HP to drive at 7 than my Taran.
It's also an excellent heavy weather boat, lovely to steer, neutral in wind. Perfect for an Anglesey virgin.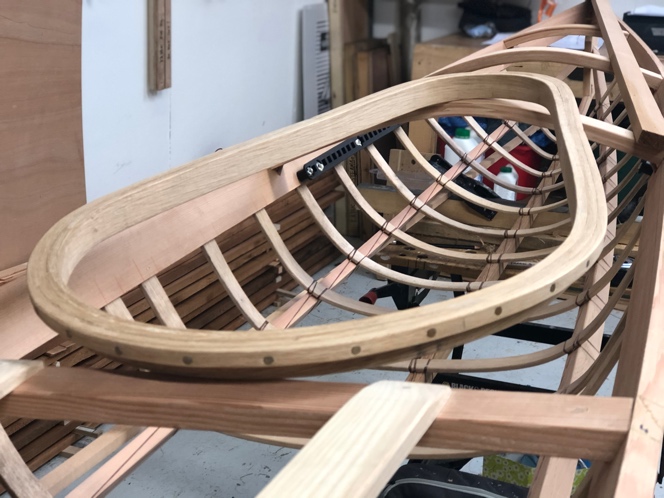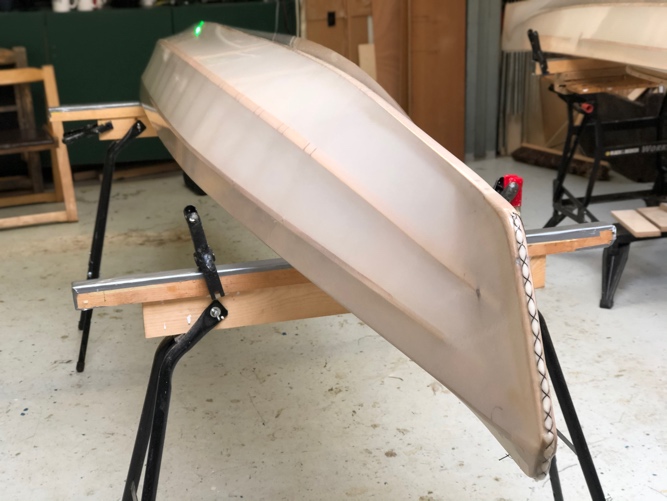 Don't be deceived by the apparent fragility, it takes a hammer claw to penetrate the ballistic nylon and two-pack coating.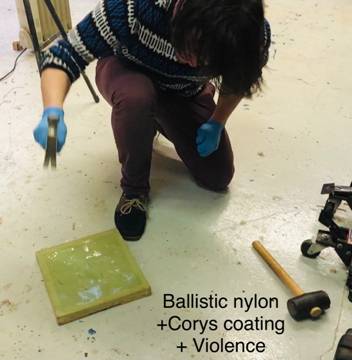 I wrote to JW enquiring about the idea. It was refreshing to be met with open minded enthusiasm. The burner was lit.
I also learnt to paddle with a Greenland paddle which I made from western red cedar from Paul at Anglesey stick. Ivan Lawlor's YouTube instruction was brilliant, a lot needed to change, what with 1980s top arm punch and all that.
So off to the IOW for training. Endurance, confidence, offshore experience etc. I was getting the bug.
Motivation? Personally I like a Sunrise at Sea cocktail served with a double shot of romance, a splash of the almost unobtainable, topped off with a pithy slice of competition. Shaken, stirred and thoroughly beaten to a pulp by dusk.
The realisation that bits of my body were crumbling like wet cake added a certain urgency to proceedings. The team-feel from PSK was great as well, less bullshit, more 'Do It'.
So there we were on the sand at Porth Dafarch, ready, about to do everything right, except for one thing, for which we were punished.
Here's the trip:
0420 Depart.
Light wind, good sea state, good forecast, warm water, perfect start time.
0445 Penrhyn, S and N Stack fine.
Ferries both crossed 2 miles in front.
0700 Carmel lovely in the first sunshine. Mice fast and playful.
0850 Lynas wide and eddy avoided.
1120 Puffin the expected slog.
Bang: Adverse at Menai. Decision to head down and buck.
1220 Beaumaris slack: Hope.
Migraine, sleep on shore.
1400 Bridges, not much tide.
Swellies, slower than hoped.
1530 Caernarfon 7kph.
Aber Menai 4kph.
17.40 Llanddwyn agony.
Edward assessed his Dad, "if we can't do more than 6 we have to go home".
Dad found 7.5.
Edward still had 8.5 in him.
Recalibrate and accept another 30km.
1910 Anglesey Circuit. Flood tide starts to give some help.
Risk assessment for final 10km in the dark, preparation, nav.
2020 Good teamwork at Rhoscolyn through the mini races.
Moral good, staying close and communicating.
Gps nailed for Porth Dafarch, a black hole in the shore lights.
2130 Home.
Very tired, but feeling surprisingly resourceful, the motive power was still
coming from somewhere.
Nearly made it out of the boats without falling over.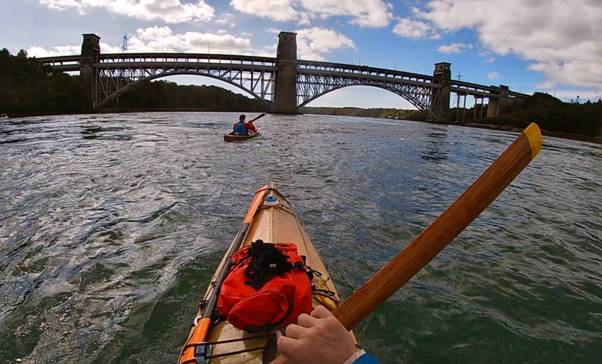 The most useful thing? '…keep the paddle going round and you will get there.'
Lesson: Press on in the West. We knew it, discussed it for two years, checked Cruising Anglesey and Jim's bible. And got it wrong.
Note to self: have the night routine rehearsed for when tired. Early action on helmets, lights. We did ok on close proximity, checking each other every 5, and the finish micro plan (follow coast closer, ticking off the bail points).
And of course Sharon the Taran is busy saying 'told you so, that flimsy bundle of sticks is a waste of time….'. I say, the pilots could try harder. I'll give her a taste of the Marine Grand National with a wing paddle. That'll shut her up for a bit, glitter and all.
Kit:
F1 sof built at Shipshape Boatworks. 4" deep closed cell seat, shaped over time to avoid sciatic dead leg. No back band.
Drysuit with polyester base layer (air temp 18°) too hot, made it harder but would still use it.
Buoyancy bags.
Reed sea socks, brilliant.
PLB, VHF, SafeTrx, GPS, deck compass, bright rear deck light and the stuff.
iPhone 8plus with piggyback battery in Aquapack case. Lasted 18 hours with 1/2 power remaining, transmitting SafeTrx position every 30 mins.
Safety bag, clothes, food, water, money, gorilla tape, pills, cord, knife spare light.
Laminated A4 sheets with permanent marker for course, distance, tide data and map. The gaffa/shock attachment worked well.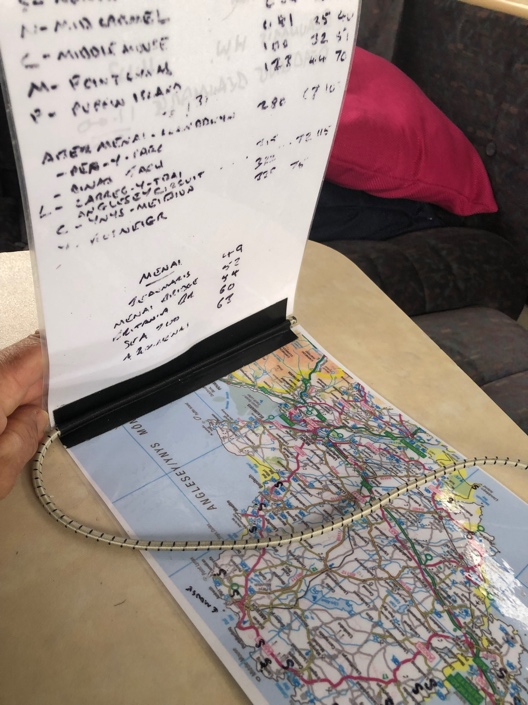 6 litres water, 3 drunk.
2 litres still lucozade sport, will take 3 litres next time.
12 oat/fruit energy bars, 4 eaten (nausea). Edward ate more and loved them. 150 calories per hour planned.
2 bags of gummy sweets each. Amazing for seasickness, almost instant relief.
Anadin extra. Would have had to bail without two pills and a sleep.
Lomo gloves saved Edward's hands. Swapping to Euro paddle after 80km
changed his stress points and helped.
Brim on helmet and sunglasses (with bifocal element for reading) essential for
low sun. Edward's Gul Evo helmet has holes and is half the weight of my
unvented Predator, which cooked my head.
Sun cream.
James Doherty – Sep 2021