by Pascale Eichenmuller
---
Fridel who?
Why haven't I heard of her, you may well ask?
Well, Fridel Meyer was born 1908 in Kitzingen am Main in Bavaria, Southern Germany and was introduced to watersports by her grandfather, the lifeguard of the towns swimming baths.
In 1932 Fridel arrived in London in style – by kayak. She had paddled from her home town in Bavaria, down the rivers Main and Rhine to the North Sea. From the mouth of the Rhine she continued along the coastline, through Belgium, towards Calais. Then she crossed the English Channel and finally paddled up the River Thames, to arrive in Westminster in July. This adventure gained her the nickname 'Canoe Fridel'.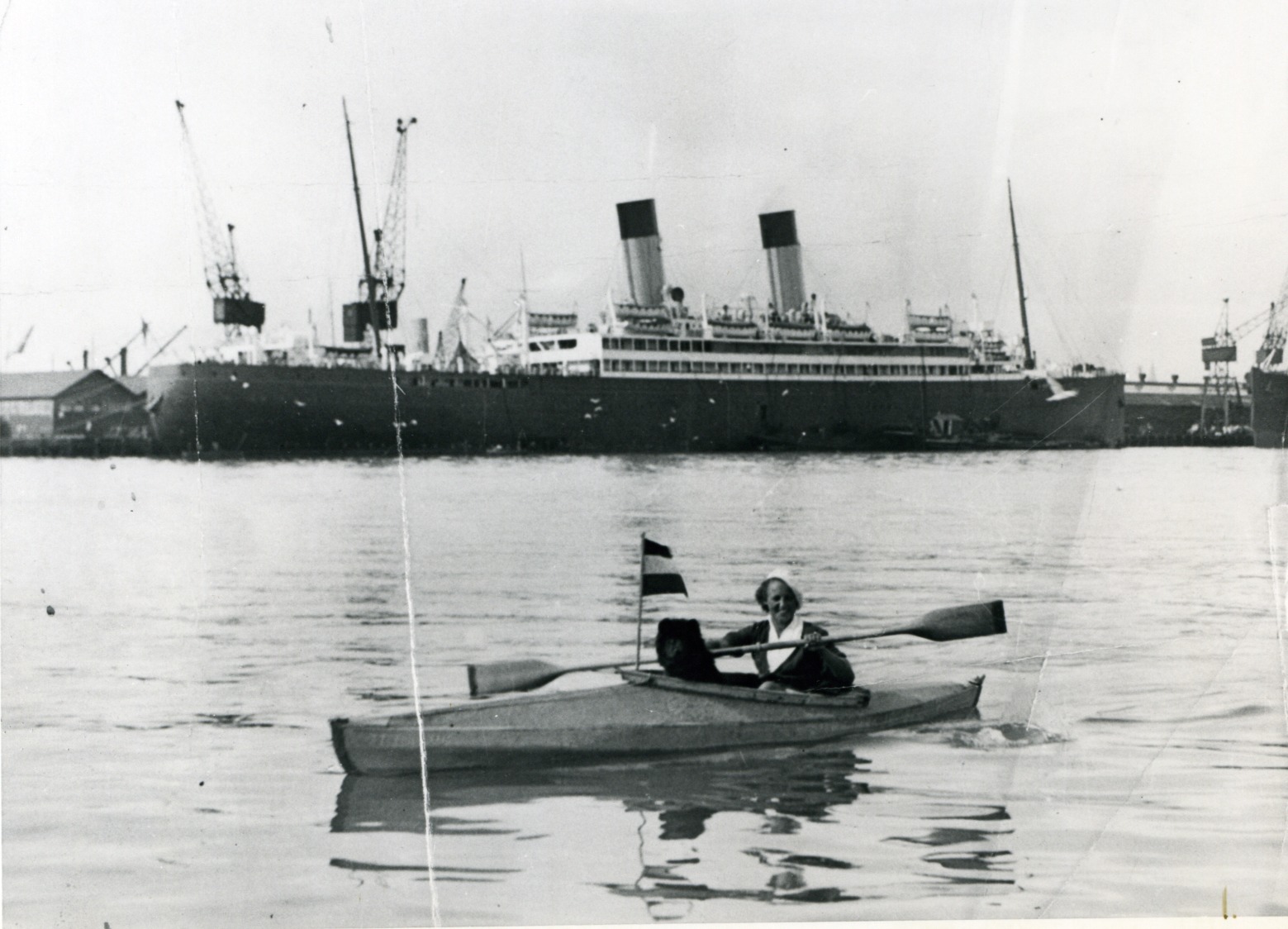 John Nolan
In May 1933 a magazine called 'The Wide World' published the intention of adventurer John Nolan to break the long distance sea kayak record. He intended to do this by paddling around the UK unaided. At the time the long distance sea kayak record was thought to be held by a German individual, but no details are available.
John Nolan was a 37 year old Irish national living in London. He was considered a seasoned adventurer. Especially of note is a previous expedition undertaken in an open canoe from Canada to Winona on the Mississippi in 1928. However he acknowledged that he had little experience of single folding kayaks, the craft he had chosen to circumnavigate the UK. He set the start date for his record attempt as the 3rd of June 1933, from Westminster in London.
Daily Express
On the 2nd of June 1933 however, the Daily Express newspaper revealed, in an article titled 'Most Interesting Woman in London Yesterday', that a young German lady named Fridel Meyer was to challenge John Nolan for the record, with an aim to gain it for Germany/Bavaria.
She told the Daily Express that she was in London to learn English and had done a lot of exercise over the winter. She had bought a folding kayak only yesterday, and intended to start tomorrow, half an hour after John Nolan. Nolan's record attempt had now become a race it seemed, the first kayak race around the UK.
Fridel's personality, and the idea of a young (24 years old), small (1.50m) lady seeking to defend a long distance sea kayaking record against a man, made quite an impression at the Daily Express, the newspaper then reported on her progress regularly. This is lucky for us, as Fridel did not keep a diary of any of her journeys, and so we rely on newspaper articles and ironically Johns Nolan's diary of the 1933 record attempt. This he published in 1934 in The Wide World magazine over 7 episodes.
Even though the Daily Express titled Fridel as 'Fräulein', she actually had been married since 1930 to Edward Engert, a British citizen of German origin. However Fridel travelled under her maiden name as at the time, her adventures were not deemed appropriate for a married woman. Also a pretty single girl on a great adventure had greater media appeal it seemed.
30 minutes head start
On the 3rd of June 1933 both competitors met on the shore of the river Thames in Westminster as planned and posed for a photo shoot. John Nolan packed his kayak and set off to circumnavigate the UK, Fridel Meyer cheekily followed him 30 minutes later. The race had started!
There is a video available of Fridel's departure – she appears just after 2 minutes.
British Pathé News – Sportshots Rowing 1933
(If you look closely you will see John Nolan's knees in the background as he inspects her kayak packing!)
For the first few days both paddlers made similar progress, camping close to each other at night, but nevertheless keeping their distance. They headed north for an anti-clockwise circumnavigation. On day four they both reached the Thames Estuary and entered the military range of Shoeburyness (50 miles from London).
Artillery Action
At the time the area was considered 'militarily sensitive' and was controlled by the War Office. The two canoeists became surrounded by shelling of a heavy artillery exercise and decided it may be best to team up until they had both reached safety. As far as I know this was the only time they worked together.
Soon after they were arrested by the military police and spying charges were considered. Nolan had just enough time to secure both kayaks against the incoming tide whilst Fridel found a phone to make a call to the Daily Express to complain about their treatment. The press loved the story and sent a number of reporters to the military base. The media profile of both competitors was raised further, resulting in a speedy release, allowing them to continue their journey.
Edward and Wuffles!
In Lowestoft (140 miles from London) Fridel was joined by her husband Edward for the day. Edward paddled in a second kayak. Unfortunately they got into a storm and Edward capsized. Being a poor swimmer he nearly drowned, but Fridel managed to attract the attention of the local coastguard and both were rescued. From this point on, Fridel continued to paddle on her own, with Edward providing land support.
To preserve the 'Fräulein Fridel' image, Edward was introduced as 'a friend from college' as he travelled by motor (or horse) vehicle along the coast. Edward's role included arranging accommodation and also carrying additional kayaking kit and camping equipment. Though camping later became the exception. He also carried Fridel's always trendy shore clothes; this was possibly the last time that paddling clothing was ironed daily on a long distance kayak expedition! In addition, Edward slipped into the role of PR Manager. This allowed 'Team Fridel' to take better economic advantage of her popularity. He arranged presentations, events and receptions at Fridel's end-of-day destinations, he also organised the printing of 'Fridel postcards' and kept in contact with local and national newspapers.
Though Edward had been politely sidelined, Fridel did have one companion on the water, a Chow-Chow dog called 'Wu Pei Fu'. The dog was apparently named after a Chinese Warlord, and the name roughly translated as 'respect demanding friend'. The dog seemed to have lived up to this name. However Fridel called it mostly 'Wuffles'!
Wuffles often travelled in the cockpit with her but also had other places on the kayak. Wuffles provided welcome extra media opportunities and also protection against thieves and unwanted attention, especially when camping. Though at times it spoiled timetables through chasing rabbits or jumping out of the kayak to chase ducks! I suppose it emphasises Fridel's paddling skills that she was navigating the British coastline with an at times excitable dog in the kayak too.
Heading north along the Norfolk coast, Fridel battled against northerly and easterly headwinds which caused swell and hence difficult surf-landings. In Mundesley (175 miles from London) she was exhausted and had to take a rest for a number of days.
Taking The Lead
Meanwhile her competition had reached Hunstanton (215 miles from London), on the south side of the Wash. Here John Nolan continued along the southern edge of the Wash to Kings Lynn, we believe he did this to avoid the direct crossing. At King's Lynn he was celebrated by the town and invited to a variety of events. When he continued his journey he encountered bad weather and rough seas in the shallow waters of the Wash, and at some point he had to board a passing fishing vessel for shelter. When he finally arrived on the north side of the bay, he learned that Fridel had overtaken him.
Fridel had taken advantage of a weather window and crossed the mouth of the Wash in an open water crossing (approx 12 miles), and then she continued to make good progress to Cleethropes (280 miles from London) where she arrived on the 17th of July. Here she crossed the Humber inside the estuary to the inland side of Spurn Head. She then portaged the exposed spit with the help of the light house keeper and continued into Yorkshire.
Nolan paddled hard to try to gain lost ground on Fridel and arrived in Cleethropes exhausted. After three days rest and a much needed boat repair he paddled up the River Humber as far as Hull, we assume to avoid the crossing once again. He then paddled back down the Humber and rounded Spurn Head, no doubt to make a point, as Fridel had portaged there.
In Yorkshire two events are of note as they perhaps hint at the future. Fridel was having a great time enjoying the invitations that came with her status as a minor celebrity. In Hornsea (310 miles from London) she joined pilots for pleasure flights in small planes. However one crash landed and Fridel suffered from concussion but escaped other injury. She continued her journey the next day.
Neck and Neck
Meanwhile Nolan fell ill in Clayton (350 miles from London) which forced him to take an 8 day break. When he finally continued his journey, a paddling friend joined him in Scarborough giving him a much needed boost. In the following weeks he made good progress, paddling 262 miles in 9 days (average 29miles/day)! Nevertheless he arrived frustrated in Berwick upon Tweed (500 miles from London) as he realised he would not be able to complete the full circumnavigation of the UK before the onset of winter and in his diary he wrote 'I still had to pass Fräulein.'(sic) He acknowledged  in his diary: 'It wasn't a race, but nevertheless I felt I ought to get ahead'.
Fridel at this point had a 160 mile lead and headed into the Firth of Forth to arrive in Edinburgh 96 days into her trip, here she was weather bound for 5 days.
Now it was time for Nolan to surprise Fridel with a daring crossing. He took advantage of a good weather day and crossed the Firth of Forth from Dunbar to Anstruther, this being an approx 17 mile open water crossing. This bold move meant that he arrived in Anstruther 15 minutes before Fridel, 575 miles and 100 days into their journey!
Fridel continued to enjoy the non-kayaking life along the route. This came back to haunt her again when she arrived in Montrose (650 miles from London). She had set out on a car trip to Stirling where she was involved in a car crash resulting in severe injuries which needed hospital admission. This meant the end of her UK circumnavigation on 13th of September 1933. She was bitterly disappointed but vowed to continue her journey in 1934.
Nolan pushed on to Aberdeen (670 miles from London) where he abandoned due to health reasons in September of 1933. In his published diary, he made no mention of why Fridel had abandoned her attempt, but acknowledged that 'taking everything into account the young lady put up a most creditable performance'. He claimed to have beaten the long distance sea kayak record and vowed to in the future follow these kinds of adventures only in the newspaper.
Modern Day similarities
Many similarities exist between Fridel's and Nolan's journey in 1933 and the modern UK circumnavigation. Headlands, river mouths and landing places are as significant now as then. Weather, tides, exposed areas, shipping traffic and once on land the moving of the heavy kayak, all posed challenges then, just as they do now.
Unsurprisingly there are significant differences in the equipment used in 1933. Both paddlers used the same folding single kayak, manufactured by the company Folbot. It was roughly 4.2 metres (14 feet) long and 75 cm (2.5 feet) wide. The weight was around 25kg unloaded. The cockpit was about 63 x 135 cm (25 x 54 inches), covered by a canvas spray deck. Wuffles the dog would mostly sit below the spray deck. The kayak price was around £12 and Fridel had sold her violin to finance it. The kayak had plenty of space for advertising and Nolan's boat was called 'The Wide World' and had additional slogans 'Canoeing round the British Isles' and on the other side 'From London round Great Britain'. Fridel's boat was named 'Stella Maris' with the additional slogan 'Folboating round the British Isles'. There was no rudder or sail and neither used a trolley to manhandle the kayak on land, relying on the generous help of interested strangers. The paddle was long by current standards, at least 2.4 metres (8 feet) and without much feather it seems.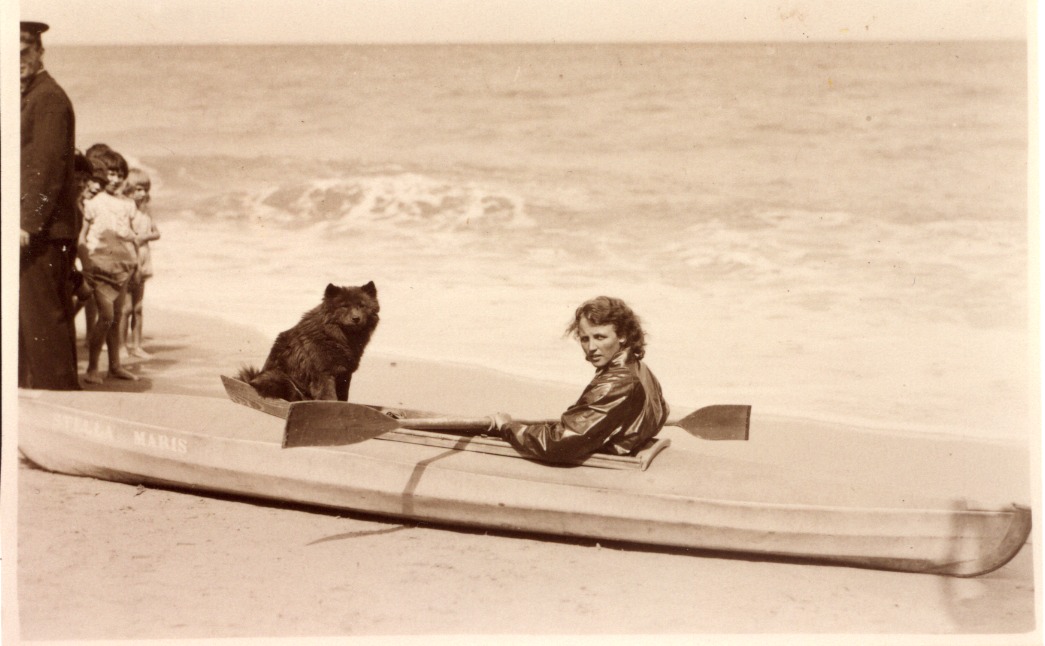 Navigation was by compass and Fridel carried two. These were held dear in the family until long after her death.
Safety equipment was virtually non-existent. Nolan carried a life jacket in his cockpit, though it was inaccessible when he once needed it, while Fridel mocked him for carrying such unnecessary ballast – 'What does he want that for?' Instead she relied on her swimming skills!
Both seemed to have paddled in everyday cotton clothes, but one picture shows Fridel with some sort of waterproof cag. No further details are available on this.
The coastguard supported the pair but access to this help was probably by visual means only, obviously a major drawback.
Today a UK circumnavigator may need less than a month to cover the distance Fridel paddled in 1933 in more than three. I speculate that a modern seakayak allows kayakers today to paddle in more advanced conditions and the use of modern safety equipment and weather forecasts permit paddling further off-shore and taking more direct routes between headlands. However it maybe that the Apres-Kayak is just not as much fun nowadays!
Restart
True to her word, Fridel restarted her UK circumnavigation the following year on the 9th of June 1934. She again started in London but this time chose to paddle clockwise, first south then west. The concept was similar, Fridel paddled along the coast, while her husband and Wuffles were again part of the team. Once again she stopped in seaside resorts for events and presentations. However details are scarce, as the press did not give this journey as much coverage. In mid September she reached Weymouth (310 miles from London), the wrong side of Portland Bill and due to adverse weather she had to wait a couple of weeks (until the 2nd of October) to paddle around the headland. This part was so intimidating that she even left her beloved dog on land.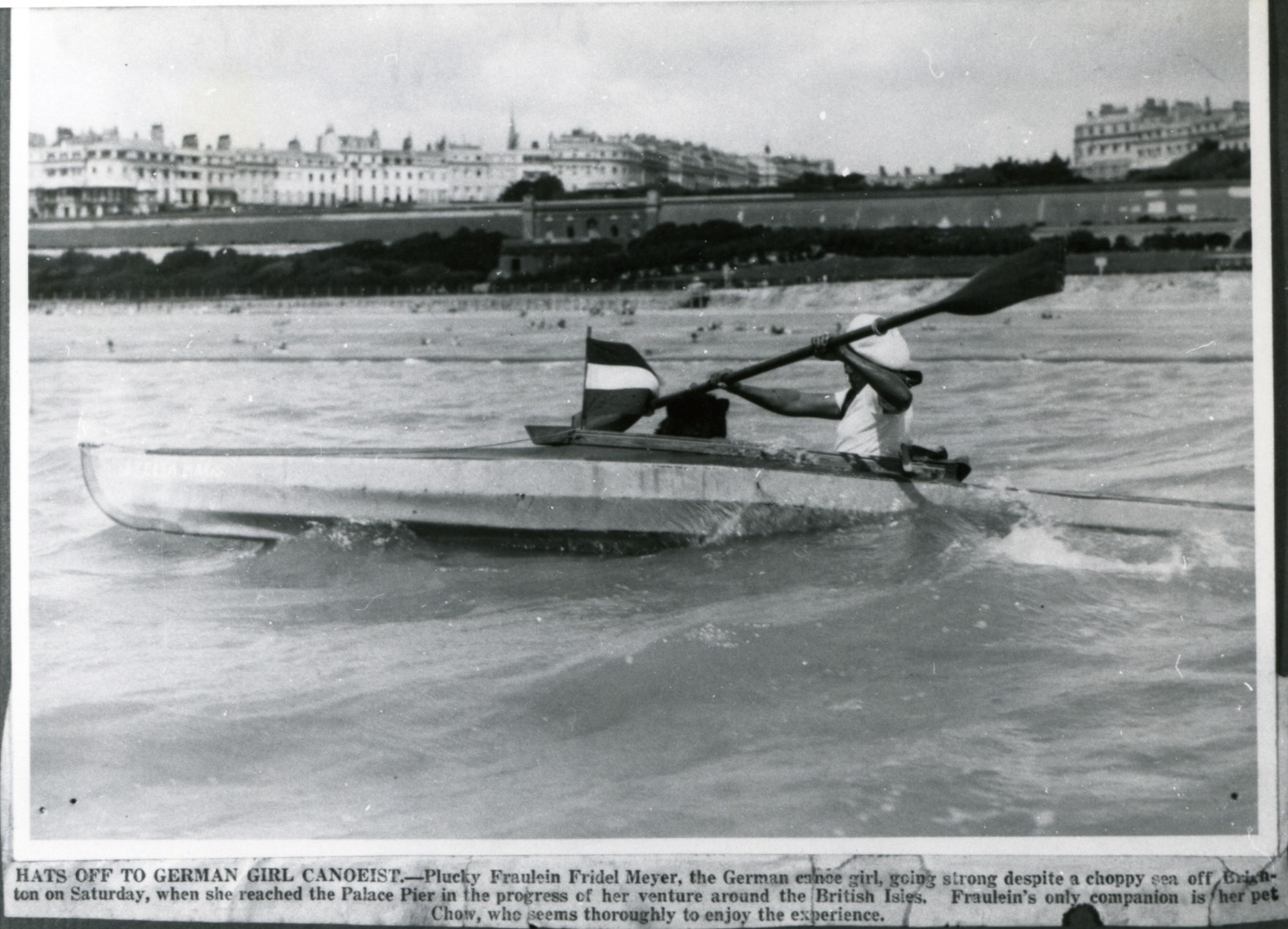 She continued along the South Coast, but then brought her attempt to a close. Due to the lesser press coverage and lack of a diary from John Nolan this time, we are not exactly sure where this was. We believe she stopped somewhere between Land's End and the Bristol Channel.
Life Goes On
Following this second UK circumnavigation adventure, Fridel moved away from canoeing. She became a mother to two daughters and started a taxi service and car repair shop/scrap yard with her husband's family. In 1939 the political situation in Europe caused difficulties and due to her German nationality she was interned for around 6 months. The business was confiscated. After her release, Fridel moved to Harrogate and restarted the taxi service and later pursued other successful business interests.
Her first marriage had ended in divorce, and in 1953 she remarried Glen Dalling-Hay. Of note is the fact that Glen was only 8 years old when he first 'met' Fridel on a beach in Withernsea during her first UK circumnavigation attempt in 1933. This was however his only encounter with kayaking, as his main interest was music, and it is thought that Fridel rarely mentioned her pre-war adventures to him. Later the couple were credited in the restoration of the Empire Building in Harrogate.
Fridel died in 1982, 49 years after her attempt to circumnavigate the UK by kayak and two years after the first UK circumnavigation was successfully completed by Paul Caffyn and Nigel Dennis.
Confusion
Historically, some confusion followed Fridel's attempt. The Harrogate Advertiser published an obituary to Fridel Meyer, which claimed that she successfully completed the UK circumnavigation in 1933, which we know not to be the case. This 'fact' was then incorporated in an obituary in her birth town of Kitzingen in Germany soon after. From there it spread across the German kayaking community and further afield to the US based 'Sea Kayaker' magazine. In the late 1980's Sea Kayaker asked Alan Byde, who was based in the UK at the time, to investigate the claim and with the help of Glen Dalling-Hay he reviewed all newspaper clippings and pieced together the full story. This resulted in an article published in Sea Kayaker in 1989 which set the record straight. Later Fridel's family donated this material to the Stadtarchiv in Kitzingen and from there it was again reviewed and analysed in 2010 by Thomas Theisinger who uncovered further details.
Of course some uncertainties and unanswered question still remain and some may speculate on the reason for this confusion about the completion of the circumnavigation. It is possible that Fridel was reticent to discuss the details later and her close circle also wanted to believe that she had completed. However from my point of view the simplest answer is that she had moved on and lot had happened in Fridel's life since her journey in 1933, not-withstanding the upheaval of a World War.
So Fridel did not paddle around the UK, but what an adventure she had, giving us an incredible achievement and a fantastic story.
I would like to thank the Stadtarchiv Kitzingen, Verlag Faltenreich and Mariner Kayaks for their kind help.
References:
Wendy White, Linda Daniels, Alan Byde: Fridel. Sea Kayaker Spring 1989

Thomas Theisinger: Starke Frauen. Binsenbummeln und Meeresrauschen. Band 6 2010
Thomas Theisinger: Fraeulein Fridel Meyer – Im Faltboot um England. Kanu Sport 3/2013
Images courtesy of Stadtarchiv Kitzingen
Pascale Eichenmuller
5th Feb 2021
---