Holy Island lies to the immediate west of the Isle of Anglesey, North Wales, UK. It is separated from Anglesey by a shallow 'Inland Sea' , created by a couple of short(ish) embankments that in turn link Holy Island to the Isle of Anglesey.
I like paddling the lap of Holy Island; it's short enough to not be a major undertaking, but long enough to hurt. And like any decent circumnav, it has crux points which demand good tidal planning and good paddle timing. Get your figures out on this one and you pay for it.
The Crux
The whole thing is dictated by the timing of the major crux-point, Stanley Embankment. Here the 3/4 mile long embankment separates the open water of Holyhead Bay from the sheltered but shallow Inland Sea. A narrow tunnel-sluice is the only access through the embankment and timing is crucial. The Inland Sea fills (and empties) with a time-lag relative to the open bay outside. The paddle-through-window is narrow, most of the time a paddling transit is not possible (or can even be seriously dangerous). Get your plan wrong and you've either got a thumb-twiddling wait, or your day is done.
Crux-bach – 4 Mile Bridge
Even when your timings are good, Holy Island makes you work for it. Before Stanley you have to wind your way through the shallows of the Cymyran Strait. Sand is king here, you have to be patient and avoid cutting corners – literally. Try to shave off too much and it ends in a bottom-dragging-blade-loading-rudder-clicking-rude-word-possible-boat-dragging-fest.
The sluice through the embankment at 4 Mile Bridge is a lite-version precursor to the one 15 mins hence at Stanley. Though shallows still abound, and perhaps a few fishing lines, life is mellow. And if you get it all wrong you can even portage 4 Mile Bridge fairly easily if needs be.
Holyhead Port
After the Inland Sea, and with 'Stanley' now behind you, Holyhead Bay lies ahead, though the stress levels only ease for a few minutes before your mind moves onto crossing the entrance to Holyhead Port. There are different opinions on this one, and I'll keep out of that argument*,  suffice to say it's nice to round the end of the Breakwater without needing to scrape off any Stena-coloured paint.
(* local opinions differ – some suggest a call to Holyhead Port Authority for permission to cross, others suggest a routing through the tunnel behind Salt Island – which dries at LW, some just paddle across between scheduled ferry sailing times – we don't recommend this)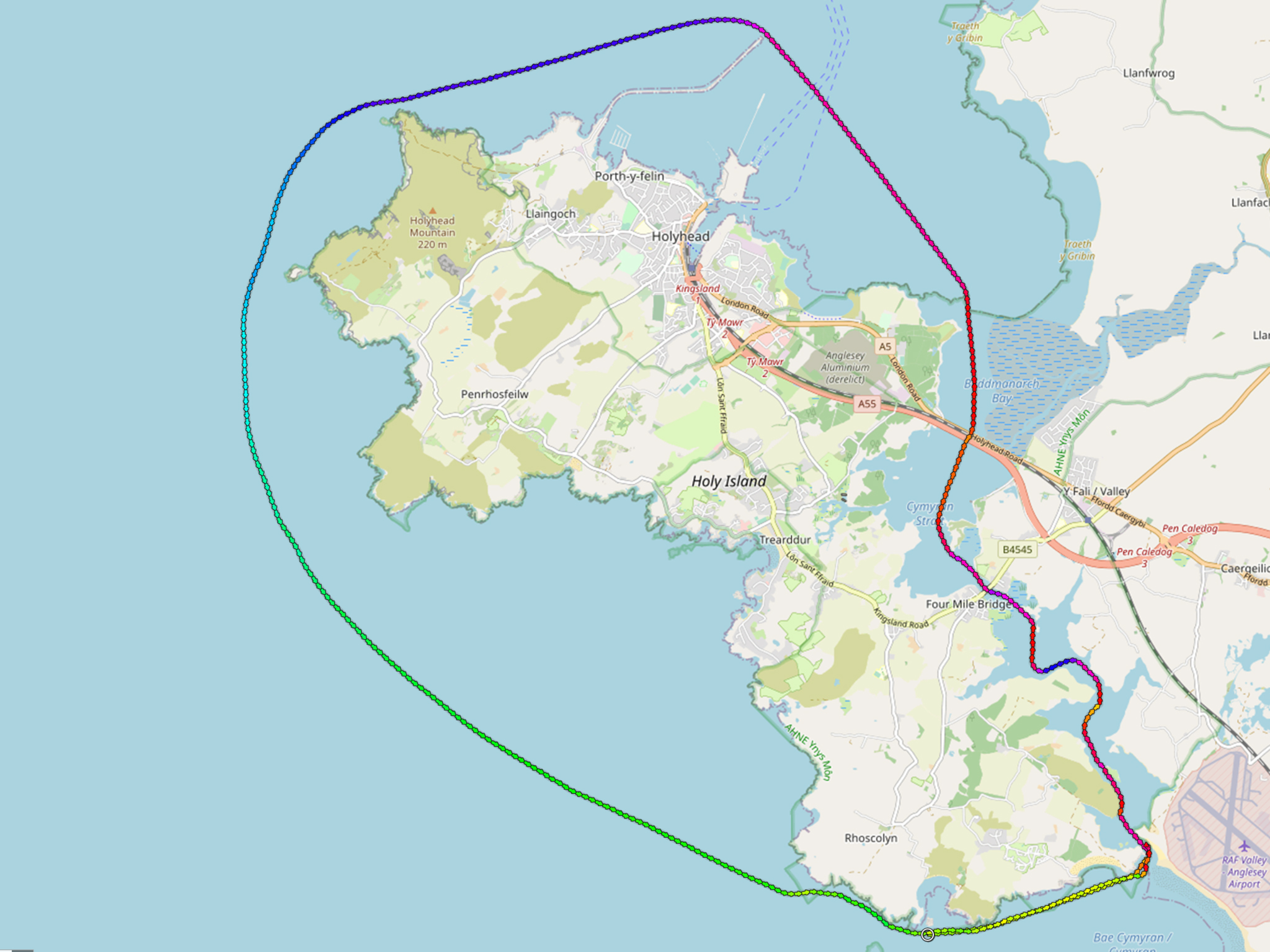 The Stacks
Next comes the tide-races of North Stack and a few minutes later, South Stack. It's a fast, and a touch splashy, ride – by the impressive cliffs of Gogarth Bay. On a calm swell-free day life is just speedy and (fairly) smooth. There's just the little noisy-bluff from the South Stack race to contend with. However any sort of swell, west wind or a ferry-wash and you'll have to chase the shoulders through North Stack before slamming a few waves over the ridge at South Stack.
The tide is giving good assist here though and you need to take a wide line to make the most of it – head somewhere between Ireland and the distant Bardsey Island for best results.
Go Wide. Stay wide.
Rhoscolyn Slog
Inevitably the cruel world returns though, and the numbers start to drop. It's a wallowy slog towards Rhoscolyn now and whatever you do those speed numbers can only decrease. There's a gentle sting in the tail here too, as Rhoscolyn Sound runs against you before anything else changes. And to make the turn, that's where your route needs to go, of course. But soon the final stretch opens up ahead and it's time for that last burn to the line. A return to the spot where you started from, a few vertical-metres of water earlier.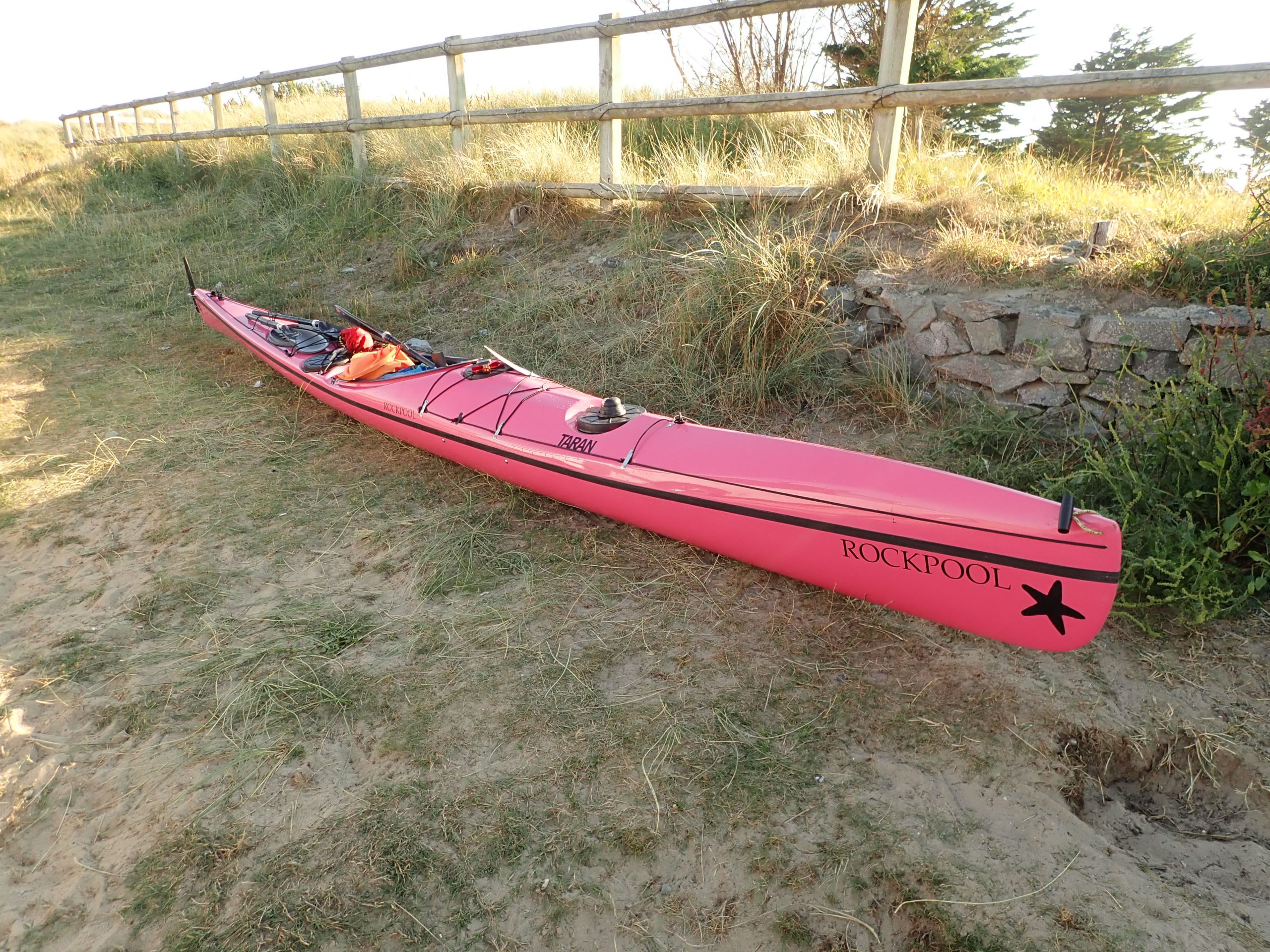 On The Day
For this attempt the plan was to go for a sub-3hr lap. And while a push on the record would be nice, it was still a 'bonus goal' for the year and hence the priority was to 'fit the plan' rather than wait for the best tides etc. – a training run as much as anything.
The weather was good, conditions were 0-1 ft and with a steady <10 mph W breeze – not perfect but pretty good. It was rather too warm though.
The tide was only a 8.5m tide, not the usual spring tide of preference, but this day just fit in to life, weather etc. This meant that the Cymyran was shallower than ideal, requiring slightly different lines. And timings for Stanley had to be adjusted slightly too.
I felt a little off-form during the warm-up and while the pace was good at the start, I was 4 min down by Stanley, and 7′ down by South Stack, though surprisingly no further time was lost before the end.
Some days you've got it, some days you don't – that's how it goes. The time of 03:03:20 was a little disappointing, but 4% down on the record is better than 5%. The distance recorded was 33.5 km.
It's still a little cracker of a lap though. Holy Island, the 'Washburn' of circumnavs.
by John Willacy
---